Think ceiling fans are passé? Well, here's the thing: it takes a lot to give the boot to something as wildly functional as a ceiling fan. We can, though, improve on that wobbly, noisy, faux-wood -bladed clunker that comes to mind!
The sky (or at least the ceiling) is the limit when it comes to fan styles.
For contemporary tastes, this modern fan is minimal and clean, but warm, too, thanks to the wood tone:
Sculptural simplicity always complements a modern atmosphere:
Industrial options include caged lights:
and caged blades:
There are rustic fans: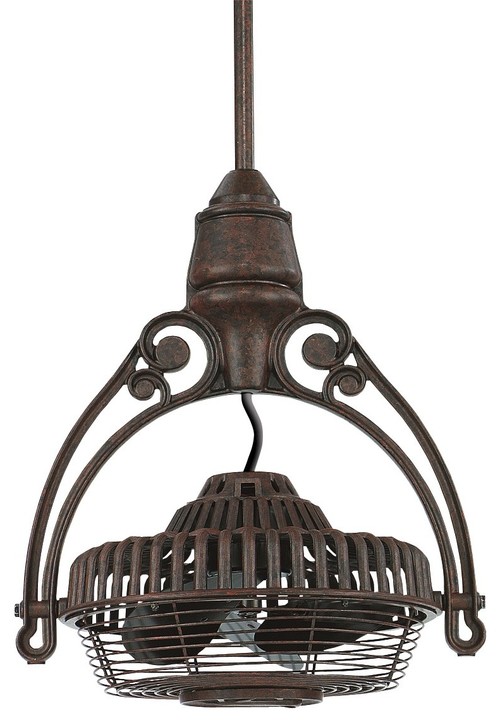 And even options for coastal décor:
Things to mull over before ordering your next ceiling fan:
How noisy is the fan? Check the decibel rating. If your new fan is going in a kids' playroom or a garage workspace, it might not matter how noisy it is. But if it's going to be whirring over your bed or reading chair, you might want to opt for a whisper-quiet fan.
How big is the space? Don't put a tiny fan in a large space. Go ahead and make a statement with something large and architectural instead.
 Do you want your fan to provide light? Many fans sport lighting, but some don't. If you'd like the fan to contribute light, decide if you'd like halogen, fluorescent, or LED lighting.
What are your location options? Ceiling fans don't always have to hang smack dab in the middle of a flat ceiling. Go ahead and hang one on a sloped ceiling (use a sloped ceiling adapter), or hang two (or a double fan) across an expanse.
Keep in mind that you'll want your fan at least 7 feet up from the floor and at least 18 inches away from a wall. Some experts suggest using a flush mount ceiling fan (AKA a hugger fan) if the ceiling is less than 8 feet tall.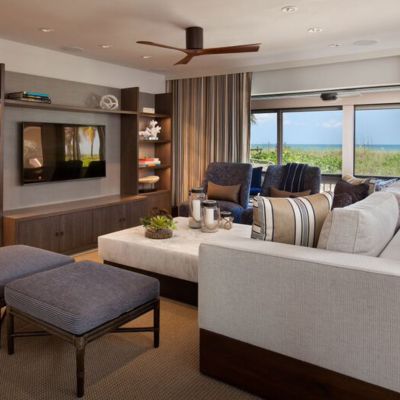 On the other hand, if the ceiling is higher than 10 feet, an extension rod (or downrod) will help you bring it closer.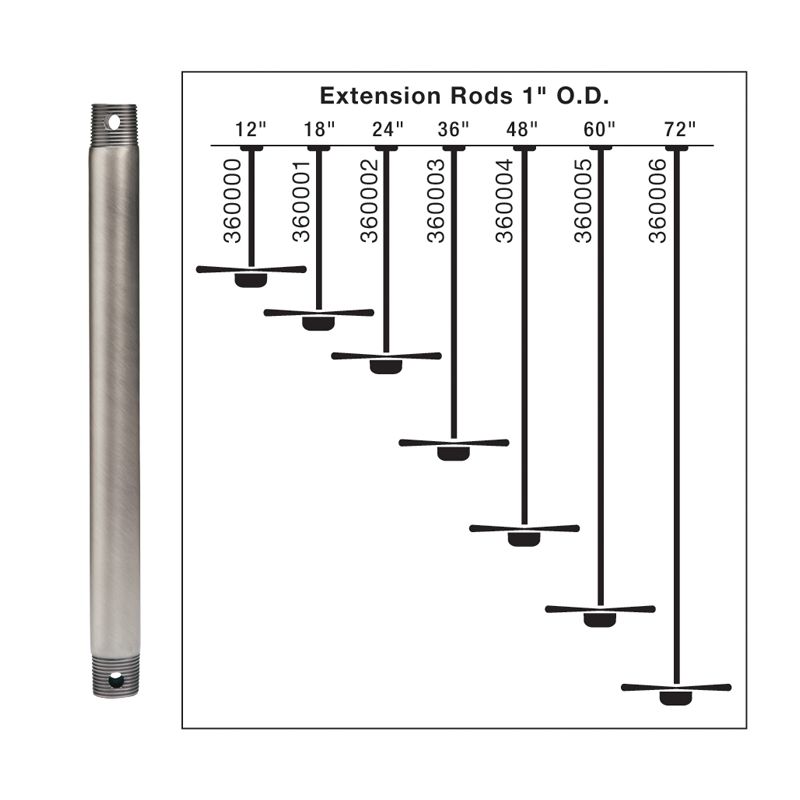 Do you want the fan to stand out or blend in? If you want a fan to be unobtrusive (rather than make an architectural statement), choose one in the same (or a similar) color as the ceiling.
If your fan is acting as an accessory, what color would coordinate with your décor? (That very first fan mentioned comes in six colors, more than most throw pillows!) We think the stainless finish on this fan works perfectly with the grey tones in this room:
Is energy efficiency important to you? If so, check the fan's Energy-Star rating.
Do you need a powerful fan? There are ceiling fans with high airflow, perfect for places where you need to circulate more air, like outdoor areas and garages.
How would you like to control the fan? A pull chain might be perfectly fine in a guest room, but in the dining room you use daily you might prefer a wall or remote control.
A final word of advice: Unless you really know what you're doing, have your new fan installed by a pro, so it doesn't dance every time you turn it on. (Besides, fans can be kinda clumsy to balance while you're on a ladder futzing with wiring.)
Once your perfect fan is perfectly installed, kick back and enjoy the—very stylish—breeze.